Howdy developers
!
Android 10 was officially released on September 3, 2019 for supported Google Pixel devices. The third-party Essential Phone and Redmi K20 Pro also received updates in selected markets the same day. The OnePlus 7T was the first device with Android 10 pre-installed
This are all the features in android 10
Some of the Phones for supported Android 10 :
Google Pixel 3 / Pixel 3 XL
Google Pixel 3a / Pixel 3a XL
Google Pixel 2 / Pixel 2 XL
Google Pixel / Pixel XL
OnePlus 7T
OnePlus 7T Pro
Dark Theme, the system-wide dark mode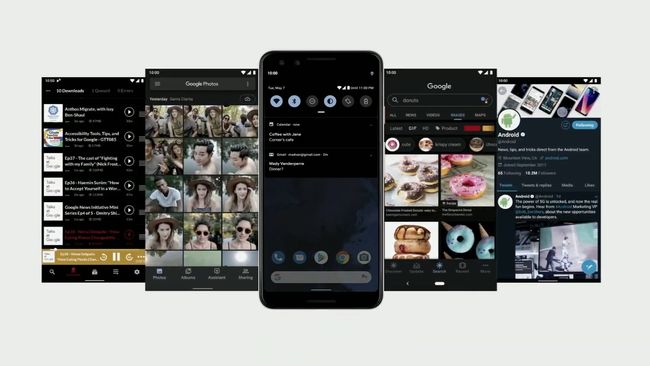 There's a system-wide dark mode coming to Android 10 and it's called Dark Theme. So far it's limited to a few specific menus and apps, but more and more apps are becoming available in a dark mode all the time.
You'll be able to trigger Dark Theme in two different ways, and both are in the notification shade. The first way is with a dedication Dark Theme quick settings button that switches between the default Light Theme and new Dark Theme.
The second way is to turn on a Battery Saver mode, which automatically turns on Android 10 Dark Theme. This is a boon for phones with OLED screens, which will burn fewer pixels by essentially turning off pixels in regions of the display that are intentionally black.
Developer tools
There are plenty of new developer tools described by the XDA leak, but it's not clear how all of them will function.
Freeform windows return, which lets you enable them after pressing and holding an app icon in the recent apps overview. On the other hand, XDA also found a feature called "Game Updates Package Preference" whose purpose is a bit of a mystery. Another, titled "force desktop mode," seems like it would push Android to an external display, Samsung DeX-style.
Not all of the UI is finished, either, making some features – like screen recording – not totally comprehensible.
JXIII